From SVP
This a mirror of the main SVP site - WORK IN PROGRESS!
The main site is >>>> HERE <<<<
SmoothVideo Project (SVP)
SVP allows you to watch any video on your computer using the same frame interpolation technique as available in high-end TVs and projectors.
It increases the frame rate by generating intermediate animation frames between existing frames in order to produce very smooth, fluid and clear motion. The technology is pretty well-known for a while ("TrimensionDNM", "Motion Plus", "Motionflow" and others), but now it becomes available to PC users for free using a simple GUI and a couple of mouse clicks.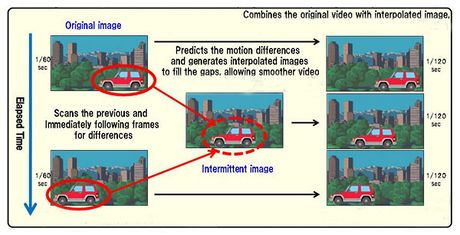 SVP provides GPU acceleration and allows to watch FullHD 1080p-video recalculated to 60Hz in real-time using a mid-range CPU and almost any GPU hardware.
SVP actually is not a video player, but it allows almost any player to play smooth video. Yeah, even in 3D :)
Any OS - Windows, OS X, Linux.
Any source - including YouTube, Crunchyroll, Twitch and more...
Any video player - major Windows players plus VLC, mpv, Plex and more...

Latest SVP version: 4.1.0.101 from 2017-01-19
Why you need it
"It looks much more lifelike and it is much easier to watch, especially in 3-D." - Peter Jackson
"3D shows you a window into reality; the higher frame rate takes the glass out of the window" - James Cameron

Although HFR version of Hobbit has not been and possibly will never be released on Blu-ray, you can get almost the same experience at home with SVP.
Also take a look at some examples that explain why it is worth to try it out.
Additional features
SVPtube 2 extension for SVP 4 Pro - watch almost any online video (including YouTube, Crunchyroll, Twitch and tons of adult web sites) in your preferred video player with SVP and/or any post processing enabled.

SVPlight extension for SVP 4 Pro - control hardware ambient backlight (so-called "Ambilight-like") systems (such as Lightpack, Adalight, etc) with SVP.

And that's not all :) SVP can also apply Ambilight-like effect to any playing video even with disabled frame interpolation.

Information
Advanced topics